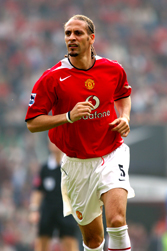 Rio Ferdinand's agent Pini Zahavi has told Manchester United tat his client deserves to be the best-paid defender in the world.
Ferdinand is stalling over a new deal – amid speculation that is a target for Chelsea.
"He loves it in Manchester and wants to stay but it depends on United, not him if it happens," Zahavi claimed.
"Rio is the best central defender in the world and deserves to earn at least the same, if not more than the others," he told The Sun.
Doubts remain over Ferdinand's future at Old Trafford after allegations of a second meeting between the player, Zahavi and Chelsea chief executive Peter Kenyon.
Chelsea issued a statement stating they were not interested in Ferdinand and Zahavi says his client will not be moving to Stamford Bridge.
"Rio cannot see himself playing for another club and I can assure everyone that Chelsea is not on the agenda." he added. "They already have two fantastic central defenders.
"He is ready to go a long way to make sure he stays at United but everybody has to give a little. It's called negotiation.
"We are focusing on staying at United and we hope very, very much to conclude an agreement in the next couple of weeks.
"But if we don't, Rio will see out the two years of his contract, unless United choose to sell him."
Zahavi also admits he is amazed that his and Ferdinand's meeting with Kenyon in a London restaurant has attracted so much attention.
"There were hundreds of people around, we weren't hiding anything. Rio was having photos with people and signing autographs for about 20 minutes," said Zahavi.
"We made an innocent mistake, there's no doubt, but it has become crazy.
"It was nothing to do with football but if we had known the fuss it would cause we would not have bothered."
Meanwhile, Alex Ferguson has urged Rio Ferdinand to end the speculation about his future by signing a new contract with Manchester United.
"The best thing Rio could do is sign his contract and get this matter put to bed," United manager Ferguson told reporters on Tuesday.
"He says he wants to sign for the club. Well, he's got the opportunity.
"We have offered him a good deal. We had a nice meeting with him on Friday and I thought we made good progress and hopefully something can get done in the next few days."