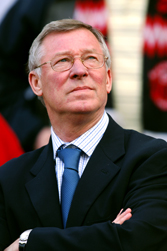 Sir Alex Ferguson launched a scathing attack on the media after Manchester United's 2-1 win over Benfica.
Ferguson faced severe criticism in the press following Saturday's 2-1 home defeat to Blackburn and he took the opportunity of United's Champions League victory over Benfica to return some of the brickbats.
"We did exactly the same thing when we lost against Blackburn as we did here – and no, I am not going to explain myself," he said after the game.
"You have your own ideas on the game. I don't want to blunt your imagination.
"Form has not been that bad.
"The loss against Blackburn was a travesty of a result because we missed some good chances but this was different.
"There was a little bit of anxiety among the players after they scored, but once the game settled down again there was only going to be one winner and that was us.
"We were always positive and with persistence you can gain success. We deserved it.
"There's no point feeling sorry for yourself, you just have to get on with it and we did."
United had failed to win their previous four games in all competitions, drawing three and losing one.
Meanwhile, Ruud Van Nistelrooy, who scored last night's winner, paid tribute to the supporters for their part in the success.
"We dominated the game but we were shocked by the equaliser and people may have thought 'here we go again' but we were able to come back," he said.
"It was great to score again, especially so late on to win the match.
"The atmosphere was brilliant too – the fans supported us from the first minute to the last."