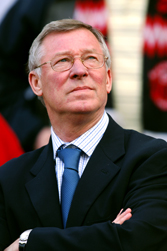 Manchester United manager Sir Alex Ferguson remains confident his side will reach the Champions League knockout stage despite being held by Villarreal.
United need to beat Benfica in their final game in Lisbon, or draw and hope Villarreal win against Lille to be sure of a place in the last 16.
"I think our form is pretty good now and I think the confidence is there," said the United manager.
"We have a big job to do but it is not unusual for us to be in this situation and I am still optimistic."
"Our form is getting better and it must help us that Benfica have to win too.
"It will be a great atmosphere, in a great stadium and while pressure comes in all forms, I am expecting a great game.
"We can't go into the game thinking about anything other than winning it. You could say the same thing about everyone else, so in that sense it is a very open situation. We know every team will be trying that's for sure."
Ferguson was annoyed by Villarreal's time-wasting, believing the Spanish team had set their stall out for a 0-0 draw from the outset.
"They were defensively-minded from the start. They wasted time and I can't believe there were only three minutes added on at the end.
"They were time-wasting the whole game and they dived about, but that's part of European football.
"I don't think it was a bad performance.
"I think we deserved better than a draw, we just needed a little break but didn't get it."
It was Manchester United's third successive European match where they failed to score and other than the two goals they scored against Benfica at Old Trafford, they have drawn a blank in the Champions League.
"It was frustrating for us towards the end. We gambled putting Louis Saha on, and going with all our attacking players, but it was worth the risk to try and win the match. We have always been that way."
Subscribe to World Soccer – The essential football magazine