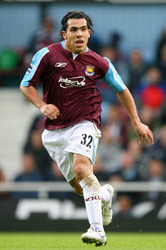 Sir Alex Ferguson is confident Manchester United will complete the signing of Carlos Tevez in the next few days.
The Argentinian striker has agreed personal terms with the Premier League champions, who are trying to resolve the complex issue of his registration with West Ham United and the Premier League.
Tevez's representative Kia Joorabchian, who disputes the ownership of Tevez's economic rights with West Ham, is also involved in the negotiations.
"We have had a negotiation, it's well documented, with Carlos Tevez," said Ferguson at a press conference on Sky Sports News.
"The essential parts, it's all agreed, we're just hoping to finalise it soon.
"I thought it was going to be done by last weekend. Everything seemed perfectly okay, so the hold-up must be with the Premier League.
"I don't know about the intricacies, I've left that to Maurice Watkins, he's dealing with that.
"I'm sure the outcome will be that we will be taking him with complete clarity in the deal, with no suspicions or anything dodgy about it.
"There is no way we can be involved in anything that's underhand at all."