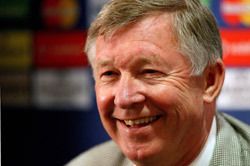 Spurs ended their Arsenal hoo-doo in midweek but they will need another big effort to beat Man Utd at Old Trafford, having last won there in 1989.
Manchester United boss Sir Alex Ferguson has criticised Liverpool's owners for the way in which they have treated manager Rafa Benitez.
Ferguson urged the club's owners, Tom Hicks and George Gillett, to show the "class" befitting the five-times European champions in their treatment of the Spaniard.
Benitez's position at Anfield appears in jeopardy due to his deteriorating relationship with Hicks and Gillett. Relations reached a nadir earlier this month with teh revelation by Hicks that the club had spoken to Jurgen Klinsmann about the possibility of replacing Benitez. The dispute has resulted in supporters openly calling for Hicks and Gillett to leave the club.
Ferguson said that admitting the Klinsmann talks had been "a bad piece of business on Liverpool's part".
"That sort of thing can be very upsetting for a manager," he added. "As a manager, there are quite a few moments in every week when you are very much on your own and people don't want to knock on your door because they think you're busy all the time, but you can be sitting there twiddling your thumbs.
"You can fill your time by phoning other managers and doing other things, but there is a lot of time spent on your own and, in moments like that, Rafa must feel very alone. How you react depends on what kind of person you are and Rafa seems quite a stubborn character who can put aside emotion, whereas Martin Jol seemed to be more affected by it when a similar thing happened to him at Spurs.
"But I've been very fortunate at United because I have had good directors – people like Bobby Charlton and Martin Edwards – who always supported me very well. At big clubs, however, it is paramount that the board shows its class. Twenty years ago, Liverpool was a closely knit and well-run club and, when Peter Robinson was the secretary at Anfield, it was a tightly run ship."
Ferguson noted that boardroom difficulties rarely help the team on the pitch.
He said: "Obviously results matter and they matter to me and they also matter to the likes of Arsene Wenger. But Wenger always had great support from David Dein at Arsenal and I've had great support, too, ever since I came here. So there is unity there and you should allow a manager to get on with his job."
And Ferguson has warned the tensions at Anfield will play into the hands of Liverpool's rivals.
"The important thing is that big clubs should be seen to be big clubs," he continued. "Most players want to play for Manchester United, Chelsea, Arsenal or Liverpool, but when they see a club they think is topsy-turvy, with a divide between the managers and the directors, then they might think twice.
"One thing for sure is that Rafa has brought in a lot of his players because of his Spanish connections. Now, if an English manager was to come into Liverpool, that connection is gone.
"I think Liverpool will be concentrating now on trying to win the European Cup rather than the league. I say that because there are three clubs ahead of them in the title race rather than just one.
"It's a long way to Arsenal, Chelsea and ourselves. If it was just one club in front of them, you still couldn't write Liverpool off. But it is very difficult to think three teams could ever drop that number of points and be caught."
Spurs ended their Arsenal hoo-doo in midweek but they will need another big effort to beat Man Utd at Old Trafford, having last won there in 1989.