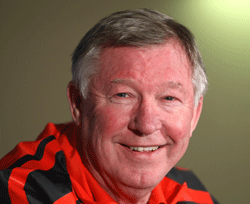 Spain are now a best price 7/2 for Euro 2012 following the latest round of qualification matches…
Manchester United boss Sir Alex Ferguson is looking to bring in 'two or three' new players in the summer.
United are expected to be in the market for a new goalkeeper at the end of the season when Edwin van der Sar retires, while there are also suggestions Paul Scholes will call it a day.
That would leave the Red Devils needing a new central midfielder and Everton's promising youngster Jack Rodwell is rumoured to be Ferguson's No.1 target.
"We have certain targets in mind at the moment anyway," said Ferguson. "I think two or three will be fulfilled, there's no question about that.
"The Glazer family have always been very supportive of our desires to improve the team."
The primary target is expected to be on recruiting young players, although Ferguson did reveal he would not be looking to improve his striking options for next season.
He added: "What we are good at is bringing young players to the club, like Chicharito (Javier Hernandez) for example.
"If you look at how, over the last six to eight years, we've brought in young players like Ronaldo, Rooney – okay, one was 17, the other was 18 – we're good at that. I don't see why we should change from what we're good at.
"We will continue [to buy players], without question, and when the opportunity does arrive and we identify the right young players, that's the way we'll go.
"In the present situation, with the likes of Chicharito, I think we have possibly some of the best young strikers in the country.
"Danny Welbeck, who's at Sunderland at the moment, is an excellent young prospect. And the boy Mame Diouf who's at Blackburn is another good prospect.
"We're particularly strong with young strikers at the moment for some strange reason. Sometimes it works that way."
For now, though, United are focused on securing a 19th league title, which would see them eclipse Liverpool as the most successful club in domestic football.
There has been speculated that such an achievement would a suitable moment for Ferguson to, but the man himself says he has no plans to step down.
"No, no, I'm fit," he insisted. "I think that retirement is for young people. They can do something. If you've got your fitness, you've not a problem. If you have got your health, you don't have a problem. The thing that would decide it for me is if those things deteriorated."
Spain are now a best price 7/2 for Euro 2012 following the latest round of qualification matches…