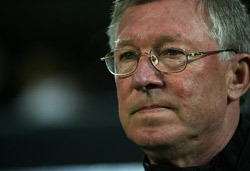 Scunthorpe have sacked manager Ian Baraclough so are they now certainties for the drop? See the best Championship relegation odds here…
A Football Association tribunal has given Sir Alex Ferguson a five-match touchline ban for his comments about referee Martin Atkinson.
The Manchester United manager was found guilty of improper conduct for criticising Atkinson's display in the loss at Chelsea earlier this month.
"You want a fair referee, or a strong referee anyway – and we didn't get that," Ferguson told MUTV. "I must say, when I saw who the referee was I feared it. I feared the worst."
The ban starts on 22 March and includes the FA Cup tie against Manchester City.
The Independent Regulatory Commission's sanction is made up of a three-game ban for the Atkinson remarks and the activation of a two-game suspended ban.
The three-man panel also fined the 69-year-old manager £30,000.
Ferguson chose to appeal the charge and, speaking prior to United's FA Cup win over Arsenal at the weekend, said he was looking forward to having his case heard.
"I felt aggrieved and I now face an FA charge for what, to my mind, was simply telling the truth," he wrote in his programme notes.
"I will be defending myself strongly when my FA appeal hearing comes up.
"In fact, I am looking forward to the challenge because, to my mind, I have not said anything out of place, however much the media urge the FA to take action."
The length of the ban is in part due to the two-game suspended ban he had hanging over his head for questioning the fitness of referee Alan Wiley last season.
Scunthorpe have sacked manager Ian Baraclough so are they now certainties for the drop? See the best Championship relegation odds here…
Take advantage of the sales by saving up to 36% on a subscription to World Soccer