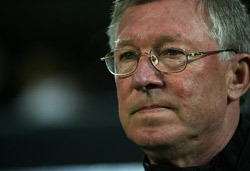 Help us with a Sport and Betting Survey! Click here to take part now.
Manchester United manager Sir Alex Ferguson has identified three players he wants to bring in before the start of next season.
"I expect Arsenal to add to their squad, Liverpool to add to their squad and certainly Chelsea will," he said.
"We have three targets and the club's owners are aware of who I want. David Gill [the chief executive] is aware too. There is competition for the best players and, if there is competition, they will cost."
"When there is competition for the best players, it costs, so we will just have to wait and see."
The recently crowned Premiership champions have been linked to Bayern Munich midfielder Owen Hargreaves, Southampton defender Gareth Bale and Spurs striker Dmitar Berbatov.
But Ferguson admitted that it was increasingly difficult to sign new players when Chelsea could outbid them in the transfer market.
"Manchester United has always been an attraction," added Ferguson, who has led United to nine top-flight titles.
"We have 76,000 people watching us every week and have a celebrity status, which means we are known throughout the world.
"However, the real competition comes when you have to pay £27m for Essien. Chelsea can do that. They can outbid us all.We are trying to identify players as quietly as we can so we can do the deals as quickly, and as quietly, as we can.
The task of overhauling Chelsea was, in Ferguson's words, his "biggest achievement" in 20 years as United's manager
"It has to be the club's greatest achievement. This is still a relatively new team and hopefully it's going to get better. It's their first real attempt at the title and that's why we're encouraged for the future.
Ferguson also revealed that in contrast to his decision to allow Roy Keane to leave Old Trafford, selling Ruud van Nistelrooy to Real Madrid last summer, was relatively straightforward.
"Well, Roy was certainly a difficult one," Ferguson said in the Daily Star. "He has been such a big influence on the club.
"I'm not so sure about Van Nistelrooy. That was not such a big decision at all.
"You need a good team spirit in the dressing room and from day one this group seem to gel straight away. That was what I wanted.
"I kept referring to that through the season. The spirit was brilliant and that was important.
"We had to made big important decisions about how we change the team. That's not easy."
Help us with a Sport and Betting Survey! Click here to take part now.