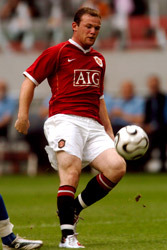 Sir Alex Ferguson believes that Wayne Rooney will be a key figure for Manchester United next season after enjoying his first proper pre-season with the club.
Rooney began the 2006-2007 campaign on the back of a limited pre-season after he was rushed back to fitness to play in England's World Cup campaign.
Ferguson has predicted a big season for the forward and has hailed Rooney's professionalism.
"He just loves football and loves training and he will be a big player next year, believe me," Ferguson told The Sun.
"He will have a great season, because he's had a proper pre-season for the first time with us. He will be fine.
"Nothing bothers Rooney. He is incredible, a very strong character.
"Wayne is exceptional. He gets up and is the first in the training ground every morning.
"We like the players to come in for breakfast and he is in at 8.45am, the first there. Unbelievable."