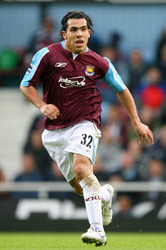 Manchester United manager Alex Ferguson said he would wait for as long as it takes to sign Carlos Tevez
.
The player's proposed move from West Ham United has been delayed by a dispute between West Ham and Tevez's agent Kia Joorabchian over who owns the player's economic rights.
The matter may ultimately be resolved in the High Court after Joorabchian issued a writ against West Ham who he says must release Tevez's registration.
"I imagine it will be done before the (August 31) deadline, but we would wait for him anyway if we had to," Ferguson said.
"We've gone so far, there's no point in stepping back.
"There are few strikers of that quality in the world market."
Ferguson believes the fact that Joorabchian has gone to the High Court rather than wait for a Court of Arbitration for Sport (CAS) is significant.
"I feel more confident now because his agent is confident enough to take it to the High Court," Ferguson said.
"You can be embarrassed there if it's not right and you can lose everything.
"So (Joorabchian) must be confident regarding the situation with West Ham."