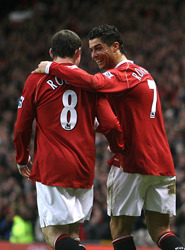 Compare football odds from over 25 bookmakers and claim £500+ in Free Bets. Click here for offer!
Sir Alex Ferguson believes that Cristiano Ronaldo and Wayne Rooney have matured sufficiently to pose a real threat when Manchester United face Roma in Wednesday's Champions League quarter-final tie.
Ferguson admits the pair froze on the night when Manchester United faced Milan in the Champions League two seasons ago, but he believes they are now ready to lead Manchester United into the semi-finals.
United have not played in a Champions League quarter-final for four years but Ferguson is admanat his side are capable of challenging the best in Europe.
"When we played Milan a couple of years ago Wayne Rooney and Cristiano Ronaldo lacked the experience to handle it," he said in The Sun.
"It was a big tie against experienced guys like Maldini, Cafu and Pirlo so it was very hard for them.
"But they have had more experience in European football and that is how you progress.
"The two years have made such a difference to players like them. Then they were young boys, now they are maturing all the time.
"All round we are in much better shape coming to Italy this time than we were two seasons ago. The team is in great shape, has great heart, spirit and confidence."
United have only won twice in Italy in 11 attempts, memorably against Juventus en route to their 1999 triumph and again in 2003, and Ferguson is aware it will be difficult to come away from the Stadio Olimpico with a lead.
"I know this is going to be a formidable test. But if we can win this one, we do not need to fear anyone," he urged.
"Roma have a tremendous home record. They have gone 19 games without losing at home.
"The Italians, without question, have over the last 40 years developed a defensive technique. Their record shows that. So that is the challenge, but we have faced that from a few teams over the years so it is not an issue.
"We have to produce the same sort of form that we did against Juventus.
"We are certainly in the sort of form to do that, we have great attacking options."
Compare football odds from over 25 bookmakers and claim £500+ in Free Bets. Click here for offer!