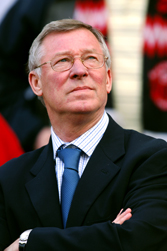 Compare football odds from over 25 bookmakers and claim £500+ in Free Bets. Click here for offer!
Manchester United manager Sir Alex Ferguson does not anticipate any trouble between fans at their Champions League quarter-final at home to Roma.
The first leg in Rome, which United lost 2-1, was marred by violence between rival supporters and between United fans and Italian police.
"I don't anticipate any trouble," said Ferguson. "Security at Old Trafford is fantastic.
"I don't think the Roma fans will have any problems. There's never been any history of that."
The Independent Manchester United Supporters' Association urged fans to behave. "We all need to make sure that there are no headlines in Manchester to wipe out the memory of those made by the Italian police last week in Rome," it said in a statement.
"The Roma fans at Old Trafford will be just like most of our fans who went to Rome last week and will be only there to watch the football."
Around 2,500 visiting fans will fly in on 12 charter flights from Rome, take 50 buses to Old Trafford and return directly after the match. However, another 1,500 fans are travelling independently and there have been reports that this group will include a number of the club's ultra followers.
Roma's managing director Rosella Sensi insists their fans will behave impeccably.
Sensi said: "It is right to call for calm. But our fans know how to behave whether they are in Italy or abroad.
"It's a very important game for Roma but we are approaching it calmly."
Extra police will be deployed in Manchester before the match.
Uefa is to investigate the trouble from the first leg, which could lead to disciplinary action for both United and Roma.
Roma could be charged if they are judged to have failed in their security arrangements, while United could be in trouble if their fans are found to have initiated the violence.
Compare football odds from over 25 bookmakers and claim £500+ in Free Bets. Click here for offer!