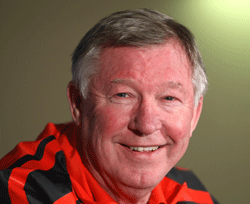 There's a full Premiership fixture list this weekend – see the best odds on EVERY match here…
Manchester United manager Sir Alex Ferguson has announced he will appeal against a Football Association charge of improper conduct.
Ferguson was charged on Thursday over criticisms he made about referee Martin Atkinson following his side's 2-1 defeat to Chelsea on Tuesday night.
A club spokesman told ManUtd.com, "Sir Alex has responded to the FA today to deny the charge of improper conduct. He has requested a personal hearing."
The United boss was unhappy with Atkinson's failure to show Chelsea defender David Luiz a second yellow card for a trip on Wayne Rooney as well as the award of what he described as a 'soft penalty' awarded when Yuri Zirkov tumbled in the box after bursting past United defender Chris Smalling.
"You want a fair referee, or a strong referee anyway – and we didn't get that," said Ferguson to MUTV in the aftermath of the game.
"I must say, when I saw who the referee was I feared it. I feared the worst."
Ferguson has chosen to appeal despite the fact an unsuccessful appeal could lead to a long spell on the sidelines.
The 69-year-old already has a suspended two-match hanging over him following comments last season about the fitness of referee Alan Wiley.
The additional two games would come into effect should the Ferguson be found guilty of the latest charge.
Meanwhile, United have refuted claims that the FA requested a copy of Sir Alex's post-match interview from the club's official television channel, MUTV.
The spokesman said, "Contrary to reports in the press, the FA have not, at any point, contacted the club, or MUTV, to ask for a copy of the manager's post-match interview."
There's a full Premiership fixture list this weekend – see the best odds on EVERY match here…
Take advantage of the sales by saving up to 36% on a subscription to World Soccer