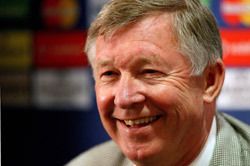 Man United v Porto preview – click here
Sir Alex Ferguson has urged Manchester United to go throw caution to the wind in their attempt to overcome FC Porto at Old Trafford.
Although the Portuguese outfit, led by Jose Mourinho, overcame United at the first knock-out stage in 2004, Ferguson's men are tipped to reach their third successive semi-final.
"It would be stupid to think this is going to be easy," said Ferguson. "When teams are used to winning their domestic title, as Porto are in Portugal, you always feel they will play with great confidence.
"They have a lot of South Americans in their team as well, which gives them a great physical strength.
"By beating Atletico Madrid in the last round, Porto proved they will be hard to beat. Complacency does not come into it as far as we are concerned.
"We will be going at full throttle in order to get the result we want."
United will be boosted by the return of Wayne Rooney, Nemanja Vidic and Paul Scholes from suspension, although not Rio Ferdinand, who is still troubled by a groin injury.
Meanwhile, Porto coach Jesualdo Ferreira could not have been more delighted when his side drew Manchester United in the last eight.
"It was always likely we would be drawn against an English side," he said. "Of seven possible opponents, four were English. But Manchester United were the ones I would have chosen to play against and my players would have made the same choice.
"It is a chance to prove what we can do against a top team. I have watched United and know what to expect. We will be well prepared."
However, Ferreira does recognise there is a huge financial gulf between the two sides.
"When you look at the money rankings and analyse the differences, it gives a certain pleasure to see us there," said Ferreira. "United and Porto's conditions are different. The leagues are different and the players too.
"I would like to say we could sign big stars but it wouldn't be true. We have to sign players nobody knows. But the game is the same and we can compete for results and titles. We just have to be cleverer than the other teams."
Man United v Porto preview – click here
For more fascinating features, subscribe and save 30% and use the below link?