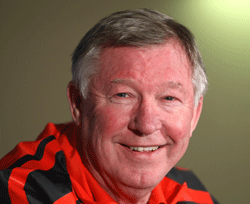 Man United travel to Schalke tonight and we've got all the best betting for the Champions League semi-final 1st leg…
Sir Alex Ferguson has admitted to being wary of the threat posed by Schalke ahead of their Champions League semi-final encounter on Tuesday.
United are favourites to overcome the German outfit and book their place in next month's final at Wembley.
"They [Schalke] have beaten every team they have played in the Champions League at home this season, including Valencia and Inter Milan," Ferguson said.
"Taken in isolation, that's fantastic form and there is no way Manchester United are going to be led into believing that this is easy. This is a difficult game for us and we have no choice but to treat it that way."
Ferguson watched Schalke's second-leg victory over Inter at Veltins Arena and was impressed by the Bundesliga side.
"They never looked like losing the game and that's quite a credit to them in terms of playing a side like Inter Milan," added Ferguson.
"They always looked in complete control and, even in the good spells that Inter had, they [Schalke] never looked like losing. It's a semi-final now and, any semi-final you go into, you know it is going to be difficult."
The United boss admitted that by this stage of the competition nerves were bound to play a part.
"You always get apprehensive at this stage of the competition. We had the same situation in 1999 when we played our semi-final against Juventus," he said.
"There was an apprehension in our first game at home that we released in the second leg. When we played Barcelona in the first leg [in 2008] we got the result we wanted. But the last 20 minutes of the second leg were absolute agony."
Ferguson is also refusing to look too far ahead and contemplate a final date with either Barcelona or Real Madrid.
"I don't like jumping ahead," continued Ferguson. "We have to deal with Schalke first. If we can manage that, I don't care who we play in the final."
Man United travel to Schalke tonight and we've got all the best betting for the Champions League semi-final 1st leg…