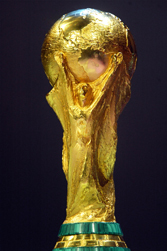 FIFA's World Cup Organising Committee have announced the seedings for next year's finals.
As well as hosts Germany and holders Brazil, the top seeded nations are: Italy, France, Spain, Mexico, England and Argentina.
Fifa has used the same ranking co-efficient as in 2002 basing the seedings upon performances at the previous two finals combined with world rankings from the previous three years.
The United States were the unluckiest of the qualifying countries, missing out on a top seeding by just one point, while Holland, ranked third according to the FIFA rankings but having missed out four years ago, were five points further adrift.
SEEDINGS TABLE
Brazil 64
England 51
Spain 50
Germany 48
Mexico 47
France 46
Argentina 44
Italy 44
USA 43
Holland 38
Jim Brown, FIFA's Director of Competitions explained: "The seedings were based on FIFA rankings for the last three years and the last two World Cup finals.
"Germany will be seeded in slot A1 in the draw and Brazil in F1, and there were economic factors involved in this decision as those teams are guaranteed to play in larger stadiums."
A special pot containing only Serbia & Montenegro, the lowest ranked European team, will be placed in a group including either Brazil, Argentina or Mexico.
The full draw for the finals takes place in Leipzig on Friday. The finals start on June 9 and end on July 9, 2006.
Pool One:
Germany (hosts)
Brazil (champions)
Italy
France
Argentina
Spain
Mexico
England
Pool Two:
Australia
Angola
Ghana
Ivory Coast
Togo
Tunisia
Ecuador
Paraguay
Pool Three:
Croatia
Czech Republic
Netherlands
Poland
Portugal
Sweden
Switzerland
Ukraine
Pool Four:
Iran
Japan
Saudi Arabia
South Korea
Costa Rica
Trinidad & Tobago
United States
Special pot:
Serbia & Montenegro
Subscribe to World Soccer – The essential football magazine