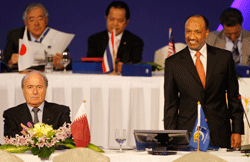 Dimitar Berbatov is now on 20 goals for the season and is a best price 10/11 to top the scoring charts…
A former leading official of the Asian Football Confederation has criticised Mohamed bin Hammam for challenging Sepp Blatter for the FIFA presidency, saying the organization would be "doomed" if the Qatari wins.
Peter Velappan, who was the AFC's general secretary from 1978 to 2007, said bin Hammam's pledge to bring "new blood" into the leadership of FIFA was "the joke of the century."
The Malaysian's comments highlight bitter divisions within FIFA following last week's announcement by bin Hammam, the current AFC president, that he would run to replace the 75-year-old Blatter.
"FIFA will be doomed if Hammam became the president," Velappan told The Associated Press. "It would be very detrimental."
Bin Hammam revealed his candidacy on Friday, launching the first serious challenge to Blatter in nearly a decade.
Velappan claimed bin Hammam had led the AFC like "an autocrat" since becoming president of the organization in 2002 and was insincere in his pledge to bring more democracy, transparency and integrity to FIFA.
"These are the very things he has not done in AFC," he said. "There is no democracy in AFC."
He added he believed bin Hammam would try to "buy up" support to win the vote.
"He is definitely an underdog but you can't rule out his influence," Velappan said.
In declaring his bid for presidency, bin Hammam said he would broaden FIFA's decision-making power and spread its wealth if elected. He proposed creating a new FIFA board to replace the existing executive committee.
Blatter has been in charge of FIFA for 13 years.
Dimitar Berbatov is now on 20 goals for the season and is a best price 10/11 to top the scoring charts…
Take advantage of the sales by saving up to 36% on a subscription to World Soccer