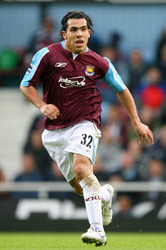 Manchester United chief executive David Gill says the club has asked Fifa to intervene in the Carlos Tevez saga.
Tevez arrived in Manchester on Tuesday to undergo a medical, but West Ham refused on the grounds that they had not received an offer for Tevez from United.
Gill said the case would be rushed through by Fifa so that it could be dealt with as soon as possible.
West Ham have also asked for the matter to be referred to Fifa, with a spokesman adding: "All parties agree this is the best way forward."
The involvement of Fifa comes after an impasse was reached between Manchester United, West Ham and the Premier League over the transfer of Tevez.
West Ham claim they have received no offer for Tevez while the Premier League insist Manchester United must deal with the club but not Kia Joorabchian, of MSI, who owns the 23-year-old's economic rights.
Last week, a Premier League spokesman said: "Any deal for Carlos Tevez has to be done directly with West Ham United.
"They hold the registration and we will not transfer the registration unless a deal is done directly with the club."
West Ham released a statement on Tuesday saying: "No agreement has been reached in relation to Carlos Tevez."
Under Premier League rules, one club is not allowed to give a player a medical unless his current club agree.
United's legal expert Watkins has remained in England in an effort to resolve the dispute.
West Ham were only allowed to keep playing Tevez last season after assuring the Premier League that the player's contract with MSI had been terminated.
But Joorabchian is admanant that his contract with Tevez is water-tight.
"We don't see any problems. I spoke to United on Thursday and they are confident they will have him registered within days," said Joorabchian.
"Carlos will come on Tuesday, have a medical on Wednesday at United and hopefully we will have administrative issues sorted next week.
"Personal terms between Carlos and United have been agreed in full. He feels confident now he is a Manchester United player."