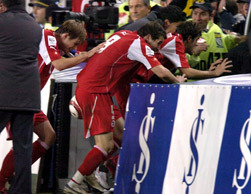 FIFA presdient Sepp Blatter has called a news conference to discuss incidents at the end of the World Cup tie between Switzerland and Turkey.
Switzerland reached next year's finals despite losing 4-2 defeat, winning on aggregate 4-4 on the away goals rule.
But the game ended in turmoil with objetcs being thrown onto the pitch and reports of a brawl between the teams in the tunnel which left Swiss defender Stephane Grichting in hospital.
"Something is going wrong. I've never seen anything like it," said Blatter.
Switzerland launched an official complaint to Fifa after the match, which will be heard on 9 December.
Tuncay Sanli scored a hat-trick for the Turks, but Marco Streller's 84th-minute goal put the Swiss through on the away goals rule.
However, the match ended in chaos with Benjamin Huggel seen kicking a member of the Turkish coaching staff as he ran off the pitch.
Then, defender Alpay aimed a kick at Streller as they went down the players tunnel.
Television footage then showed a melee breaking out in the tunnel involving several players from either side.
According to reports, Grichting was taken to Istanbul's Acidem Hospital after being kicked in the groin.
However, Turkey striker Halil Altintop played down the clashes.
"A few of our players overreacted after the match but I am happy there were no serious incidents," he said.
"I was in the Swiss locker room and talked to the players I knew from the Bundesliga. They said everything was fine."
Subscribe to World Soccer – The essential football magazine