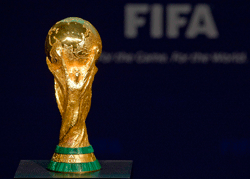 Lille now have a 4 point lead in Ligue 1 but are still a best price 7/2 to take the title – see the latest betting here…
FIFA has ruled out the possibility of a winter World Cup in 2022, saying it has no plans to change the international calendar and that any switch of dates would have to be proposed by the Qatari hosts.
Qatar has already said it wants to stage the tournament in the summer as outlined in its bid.
"Any potential move of the 2022 FIFA World Cup from a summer to a winter period would have to be initiated by the football association of Qatar and would have to be presented to the FIFA Executive Committee," FIFA said in a statement.
"At this stage there are no concrete plans to change the international match calendar."
The statement appeared to mark a U-turn by football's governing body as FIFA president Sepp Blatter said this month that he expected the tournament to be staged in the winter.
But Mohammed Bin Hammam, the Qatari president of the Asian Football Confederation, said the 2022 World Cup hosts would resist efforts to reschedule the tournament.
"We submitted a bid suggesting we are going to be ready in June and July. And we said we are going to face all the challenges and we are going to meet all the requirements," Bin Hammam told Sky News last week.
"Our focus is June, July. It is never our interest to change one week beyond June and July."
Qatar has insisted that the summer heat will not be a problem as all its stadiums will be air-conditioned.
It has also said the stadiums can be dismantled at the end and shipped off to developing nations.
However, this has failed to allay concerns about the extreme temperatures common during the summer months in Qatar.
Lille now have a 4 point lead in Ligue 1 but are still a best price 7/2 to take the title – see the latest betting here…
Take advantage of the January sales by saving up to 36% on a subscription to World Soccer