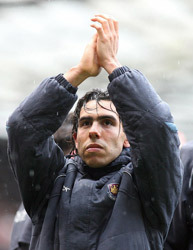 Help us with a Sport and Betting Survey and win a £50 Free Bet! Click here to take part now.
Fifa has confirmed that it will investigate the Carlos Tevez transfer to West Ham and assess whether Premier League were correct in their decision to fine West Ham, rather than dock them points for breaching rules.
West Ham were hit with a £5.5million fine after an independent commission found the club guilty of having a third-party agreement.
Several Premier League clubs have queried the sanction with relegated Sheffield United proposing legal action.
"We will look at this – and not only if we are asked, we will do it anyway," Fifa president Sepp Blatter told a media briefing in Zurich.
"We will ask for the file once it has been decided how and why the decision was made.
"If we feel something was wrong in this decision then we have to open our file."
Blatter continued to confirm that in terms of timescale a 'decision would have to be taken immediately.'
Fifa has jurisdiction over individual clubs following a ruling by the Swiss federal court and this means that in theory West Ham could be hit with further sanctions.
"Yes we have the power," Blatter concluded.
"The Swiss federal court has made a ruling by saying that Fifa and its associations have the right and the power to use all 14 sanctions of the disciplinary code starting with a warning and ending with exclusion of a member via relegation and deduction of points.
"We will monitor this situation very carefully and once this situation is dealt with by the league and the FA we will ask for the files and have a look because we have the right and the responsibility to see how such cases are dealt with.
"The matter is linked with a club in Brazil – Corinthians – and with the ownership of this club and the ownership of the two players.
"According to our files the transfer of Tevez was done correctly according to the international transfer of players."
Help us with a Sport and Betting Survey and win a £50 Free Bet! Click here to take part now.