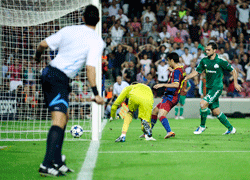 See all the best betting odds on EVERY Champions League match this week in our dedicated centre…
FIFA general secretary Jerome Valcke has revealed that only two companies have come close to meeting their criteria on goal-line technology.
The International Football Association Board (IFAB) agreed on Saturday that tests on various systems will continue for another year and technology could be used at the 2014 World Cup in Brazil if a consensus on a suitable system is reached.
However, ten systems failed stringent FIFA tests last month and Valcke is keen to find a mechanism that produces entirely accurate results.
"I don't think the idea is to extend (tests) beyond 2012," Valcke told Sky Sports News HD.
"IFAB has to make a decision. This deadline gives us, and the companies, another 12 months to work on tests.
"Even as an empty goal, just throwing the ball through to the goal, only two companies reached 98% and 94%. There's not one company who has reached 100%."
"It means that either it's a technical problem, or it's not good enough to be used for a 90 minute game. That's where we have to be very careful."
The IFAB meeting in Newport agreed to allow UEFA to use its system of five match officials at the Euro 2012 finals in Poland and Ukraine next year.
The two extra officials will be behind the goal-line but on the side of the goal next to the assistant referee.
Valcke says there is no conflict with UEFA president Michel Platini, who is opposed to the introduction of goal-line technology, and believes there is no reason why additional assistant referees could not work in tandem with technology.
"It's always a good relationship," said Valcke. "Michel Platini is definitely into his project of additional assistant referees.
"We will see but, firstly, I don't think there's an issue. If they work, the two systems can definitely work together. It's not one versus the other one."
See all the best betting odds on EVERY Champions League match this week in our dedicated centre…
Take advantage of the sales by saving up to 36% on a subscription to World Soccer