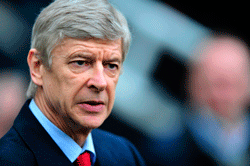 Gavin Beech thinks Man United are the value when they travel to Liverpool on Sunday…
Arsenal boss Arsene Wenger has confirmed midfielder Alex Song will not be fit for Tuesday's Champions League trip to Barcelona.
Song missed Saturday's goalless draw against Sunderland after failing to recover from a knee problem he picked up in the Carling Cup final defeat to Birmingham.
"Alex Song is completely out," Wenger told Sky Sports News.
"He had a test yesterday morning – the test was negative and he's out."
Wenger is confident Cesc Fabregas will be available to face Barcelona, assessing his chances at '90 per cent'.
"Wilshere will be fit, Fabregas will have a final test today and I am 90 per cent he will travel and be fit," added Wenger.
Asked how important it was to have Fabregas fit to play, Wenger said: "It is vital for us because he is important in the transition between defending to attacking because he gets us out of pressure and can give a final ball as well.
"He is one of the leaders of the team – the leader of the team – so it is important to have him in a big game like that."
Wenger has also dismissed the suggestion that Arsenal would struggle to defend against the expected Barcelona onslaught.
"Yes we have to [defend] because it is one of the few games where we spend 60 per cent of time defending," he said.
"It is very important but we have to fight against the preconceived ideas as well because the only one way of thinking is that Arsenal cannot defend.
"But I would just remind you that in the last 11 games we have seven clean sheets in the Premier League and conceded less goals than Man Utd for example which is a very good defence.
"I think we can defend when we have to, but we prefer to attack that is for sure."
Wenger hopes his side have learned from the mistakes of last season's meeting between the two sides when Lionel Messi scored four goals after Nicklas Bendtner had given the Gunners the lead.
"We can learn," added Wenger. "I would like to have the same start as last year because I feel defensively we can cope better with their pressure and that is what we want to show.
"The second leg last year was a little bit the Lionel Messi show and you can never bet on a poor performance from Messi but that is certainly one of the keys of the game."
Gavin Beech thinks Man United are the value when they travel to Liverpool on Sunday…
Take advantage of the sales by saving up to 36% on a subscription to World Soccer