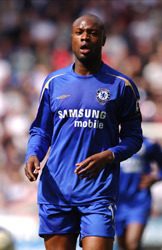 William Gallas has revealed he will leave Chelsea, and confirmed that Milan want him.
However, Chelsea have warned the French defender they have no intention of letting him leave this summer.
Gallas has never hidden his desire to leave Stamford Bridge this summer and Milan are keen to add him to their squad.
"My decision has been taken and is definitive: I want to leave Chelsea," Gallas told L'Equipe.
"I want to experience another challenge. "I have been here five years and maybe that's enough. I am a man who wants to win everything and I want to do that in different countries.
"The management of Milan are interested in me, and I am interested in the idea of going to play over there. It would be an honour."
The Frenchman, who has made more than 200 appearances for Chelsea in his five years at the club, has one year left on his Stamford Bridge contract.
The 28-year-old will now take advantage of Fifa rules which permit any player to leave a club after three years of a contract – although compensation would have to be paid to the selling club.
Gallas admits that it was Chelsea's attitude with him this time last year that lay behind his decision to quit.
"Chelsea did not regard me as necessary," he said.
"I was disappointed [by] Chelsea. Why await the end of the Championship to give me what I was worth?
"From now on, it is not any more a question of money, I do not want any more."
Meanwhile, Chelsea have warned William Gallas they will hold him to his contract which is due to expire in 2007.
The club's statement read: "William Gallas has made a great contribution to Chelsea since he has been here and he has been offered a very good new contract in recognition of that.
"That contract is still on offer and we would like him to be at Chelsea for the next four years.
"If it is not accepted, then William is still under contract for one more year and we will not be encouraging offers for players that we want to keep.
"Under Premier League rules he would be able to leave at the end of next season on a free transfer."