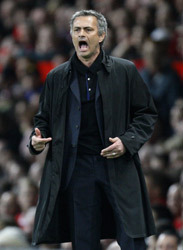 Milan midfielder Gennaro Gattuso has hit back at Jose Mourinho's recent jibes at Carlo Ancelotti, after the Inter coach suggested the Italian was protected.
Milan maintained a dignified silence over the remarks, but Gattuso was more forthcoming.
"Mourinho? I do not want to get involved in a drama with him or anyone else," Gattuso told the club's official website.
"However, close your eyes and try to imagine what it means to be a protagonist in five Champions League finals, two as a player, and three as coach."
The Italian midfielder, who is out for the rest of the season with injury, also had some tough words for Carlos Dunga over the recent injury confusion with Kaka.
"Kaka? The drama on his injury was down to Dunga, not Kaka," added the midfielder.
"I know players who come to Milan Lab from other teams to get treated, so this says plenty."
For more fascinating features, subscribe and save 30% and use the below link?