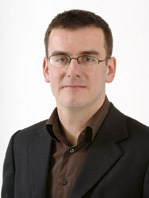 Quarter-finalists in 1996, semi-finalists in 2000, runners-up in 2004. There had been a degree of inevitability about Portugal's progress in this tournament that had led the Portuguese to believe that this really was their year.
Yet tonight in Basle the talented class of 2008 ran into the brick wall that is Germany tonight. The Portuguese weakness at crosses was exposed by a German side which played to its strengths, even if Michael Ballack's winning goal was secured with a push on Paulo Ferreira. The Portuguese media are bound to seize on Ballack's minor misdemeanour but they would do better to focus on Ricardo's failure to assert his authority when dealing with high balls.
Who needs coaches, eh? Joachim Low watched the game from the discomfort of an executive box, clearly frustrated by his lack of influence on the game. I sat a few rows back behind the Portuguese dugout, and witnessed at first hand Scolari's very own Graham Taylor moment, when he argued with the fourth official over Ballack's goal. Scolari's calls from the touchline went largely unheard by his players. But at least he made the right noises with his substitutions.
Russia looked good last night in Innsbruck and they now face Holland in what is effectively a re-run of the 1988 Final. Guus Hiddink's side have some momentum behind them now and the former Holland coach would love to get one over his fellow countrymen.
There's a feeling among Dutch colleagues here that the Oranje defence cannot hold out for six matches without showing some sign of weakness. Khalid Boulahrouz, a revelation at this tournament compared to the player who struggled at Chelsea, is unlikely to play after his wife suffered a miscarriage.
How Van Basten reorganises his defence to cope with Boulahrouz's absence, as well as the emergence of Russia's playmaker Andrei Arshavin, will go some way to determining whether the Dutch make it to the semi-finals.
The tournament is getting serious now, and not just on the pitch. The timetable of the knockout stages means alternate games between Basle and Vienna. For most of the group stages, it's been possible to negotiate a route between the venues by car and train. But now there is no option but to fly between the two remaining venues.
UEFA likes to call on fans to "respect the game, respect the environment". Shame that it's so hard to practice what UEFA preaches.