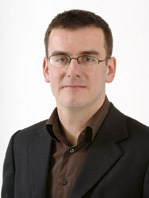 The fourth team in the Premier League, Aston Villa, take on the fourth team in the German Bundesliga, Hamburg, in the UEFA Cup this Wednesday.
The appointment of Juande Ramos as Real Madrid coach has provoked a curious mixture of reactions.
In England, the response has largely been negative and, from some, incredulous. How could somebody who messed up so badly at Tottenham suddenly become so coveted by Real Madrid?
In Spain, many have tried to explain away the problems at Tottenham. Ramos did, after all, lose Dimitar Berbatov and Robbie Keane as Spurs made a £8million surplus in the summer transfer market.
By appointing Ramos, Real Madrid have, like so many things they do, acted in short-term panic. They could not employ Bernd Schuster after his claim that Madrid could not win in Barcelona, but they had no long-term replacement in mind.
So Ramos is a stop-gap replacement on a six-month contract. A short-term solution to a long-term problem. He faces an uphill struggle to turn Madrid's season around.
They are now 13 points behind Liga leaders Barcelona, in sixth place. No team has ever overhauled such a gap in the history of the Spanish top flight.
The realistic aim for Ramos must be to claim a place in the top four, and qualification for next season's Champions League, and put up a realistic showing in the last 16 of this season's Champions League.
There's no reason why Ramos can't do that. In the long-term Madrid face the prospect of replacing an ageing team (Raul is 31, Cannavaro 35, Van Nistelrooy 32). But in the short term there will be bought-in replacements (Klaas-Jan Huntelaar and Lassana Diarra, for starters) as well as key players returning from injury.
Looking further forward, Ramos could well be the man. He achieved notable success at Sevilla as part of a management structure that also included a powerful technical director (Monchi) and an outspoken president (Jose Maria Del Nido).
The situation is not quite the same at Madrid because Predrag Mijatovic is not as influential as Sevilla's Monchi. But Ramos is in a similar position in that he will largely have to work with the players that Mijatovic, as the right-hand man of president Ramon Calderon, provides him with.
The problems in Madrid have had the unfortunate effect of deflecting attention away from Barcelona's runaway start to the season.
Pep Guardiola's side have lost just one of their opening 15 Liga games and scored a breathtaking 46 goals, putting them on course to beat Real Madrid's' record of 107 in 1989-90 under John Toshack. Similarly, they were the leading scorer in the Champions League group stages, with 18 goals, and twice hit five past opponents.
It's too early to start taking about Guardiola engineering a revolution at Camp Nou. But the transformation from the team who struggled at the fag end of Frank Rijkaard's reign into this term's free-scoring entertainers has been quite remarkable.
The fourth team in the Premier League, Aston Villa, take on the fourth team in the German Bundesliga, Hamburg, in the UEFA Cup this Wednesday.
Save up to £14 a year this Christmas when you subscribe to World Soccer