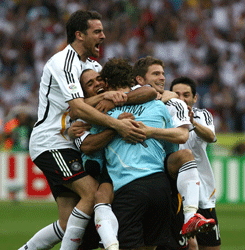 Quarter-final
Germany 1- 1 Argentina
Germany won 4-2 on penalties
Discuss this game on our new Forum
FREE £5 CD WOW! voucher for all new easyodds members, no purchase necessary. Click here to register now!
Hosts Germany are through to the semi-finals of the World Cup after a penalty shootout victory over Argentina.
Argentina took the lead early in the second half through a Roberto Ayala header, but they paid the price for some defensive substitutions by coach Jose Pekerman, and with ten minutes remaining Miroslav Klose brought the scores level.
The match ended with both teams out on their feet and it was Jens Lehmann who emerged as the hero of the day, saving two Argentinian spot-kicks to send Jurgen Klinsmann's side into the last four.
Argentina's Javier Saviola was dropped by Pekerman, replaced by Carlos Tevez up front while Fabricio Coloccini came in for Lionel Scaloni.
Luis Gonzalez recovered from a groin injury and took his place in midfield, while Lionel Messi remained on the bench.
Germany named an unchanged team as skipper Michael Ballack and striker Miroslav Klose both passed fitness tests after shaking off injuries. Klinsmann was able to name the same team which started in the 2-0 second-round win over Sweden.
In the opening minutes, Germany, roared on by a huge majority of the crowd in Berlin's Olympiastadion, looked the brighter of the two teams. The first save of the game was made by Abbondanzieri from a Podolski free-kick, and although the shot was tame, the Argentinian required two attempts to gather the ball. The best chance early on fell to Ballack who was picked out by Schneider but the new Chelsea signing headed just wide from 12 yards.
Argentina were playing their patient, probing game but Germany were succeeding in keeping them at bay and despite enjoying an abundance of possession, the South American side were unable to test Jens Lehmann in the opening stages.
Riquelme, Argentina's playmaker, was shadowed throughout by Frings, and with his contribution limited, Argentina were struggling to make inroads up front. With the hosts appearing to lack the imagination to penetrate their opponents' defence, the first half was absorbing, rather than the enthralling affair that had been anticipated – the kind of game to be admired but not a match to set the pulses racing.
Sorin was cautioned in the first minute after the break, meaning the Argentinian skipper would miss the semi-final should Pekerman's side prevail. Moments later Argentina took the lead through Roberto Ayala who rose highest at a Riquelme corner to power home a header from close range.
It was the first time Germany had been behind at the tournament and a real test of the newly-discovered self-belief that had characterised their progress over the past three weeks.
Germany's response was immediate, forcing a series of corners with their best chance falling to Ballack after Abbondanzieri went walkabout, but the skipper's volleyed effort was blocked by Ayala. Shortly afterwards, the keeper had to be replaced having failed to recover from a clash with Klose.
Pekerman's thoughts were evident with 20 minutes remaining when he replaced his playmaker Riquelme with the more pragmatic midfielder Cambiasso, as the South Americans looked content to hold their lead. However, Argentina almost extended their advantage when Tevez took advantage of a loose pass across the face of the Germany defence, before slotting the ball through to Maxi who fired into the side netting.
With Crespo removed for Cruz, and no place for the mercurial talents of Messi or Saviola, Pekerman was gambling on his team holding on for the last ten minutes. It was a gamble that backfired immediately when Michael Ballack's cross was flicked on by Borowski to Klose who powered home a header past the substitute keeper Franco for his fifth goal of the tournament.
With extra-time beckoning, Germany, buoyed by their equaliser, were in the ascendancy, although their attacking impetus was hindered by an injury to Michael Ballack, whose movement appeared to be restricted. Argentina, lacking the influence of Riquelme, and without the option of introducing an attacking substitution, looked content to hear the final whistle.
The first period of extra-time tended to support the suspicion that penalties were the only way that these sides would be separated. Both teams appeared to be suffering from fatigue and, in keeping with the game as a whole, clear cut chances were conspicuous by their absence.
In the second period of extra-time, Argentina looked like they least wanted penalties as they took the game the game to Germany. However, by this stage, both sets of players looked exhausted and a shootout looked increasingly inevitable. What had started as a game of chess had ended in stalemate and it was now down to which side had the most nerve.
Neuville blasted his first penalty past Abbondanzieri, while Cruz gave Lehmann no chance with Argentina's initial effort. Ballack then drove his effort home, but Argentina's next effort was a tame spot-kick from Ayala which Lehmann saved with ease. Podolski slotted home Germany's third, and his effort was matched by Maxi. Borowski sent the keeper the wrong way for Germany's fourth, meaning Cambiasso had to score to keep Argentina alive, but his effort was stopped by Lehmann.
The match ended on a sour note when both sets of players were involved in an ugly brawl. It was difficult to deduce the cause of the initial bust-up, but it was a sad end to what had been a compelling contest.
After this result, Germany must be regarded as the team to beat. On home soil and having overcome the team many predicted to win the World Cup, it is certainly hard to see them not reaching the final.
Teams:
Germany: Lehmann, Friedrich, Mertesacker, Metzelder, Lahm, Schweinsteiger, Frings, Ballack, Schneider, Klose, Podolski.
Subs used: Odonkor 62 (for Schneider), Borowski 74 (for Schweinsteiger), Neuville 85 (for Klose)
Bookings: Podolski 3, Odonkor 90+4, Friedrich 114
Argentina: Abbondanzieri, Sorin, Ayala, Coloccini, Heinze, Maxi, Gonzalez, Riquelme, Mascherano, Crespo, Tevez.
Subs used: Franco 71 (for Abbondanzieri), Cambiasso 72 (for Riquelme), Cruz (79 for Crespo).
Bookings: Sorin 46, Mascherano 60, Maxi 88, Cruz 96
Referee: Lubos Michel (Slovakia)
Scorers:
Argentina: Ayala 49
Germany: Klose 80
Penalties:
Germany: 4
Neuville (Scored)
Ballack (Scored)
Podolski (Scored)
Borowski (Scored)Argentina: 2
Cruz (Scored)
Ayala (Missed)
Maxi Rodriguez (Scored)
Cambiasso (Missed)
FREE £5 CD WOW! voucher for all new easyodds members, no purchase necessary. Click here to register now!