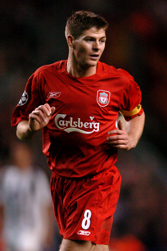 Liverpool chief executive Rick Parry has confirmed that he will hold contract talks with Steven Gerrard "in the very near future".
The Liverpool skipper has two years remaining on his current deal, but the club are keen for Gerrard to sign a new deal to quell speculation about his future at Anfield.
"We're not going to put a timescale on talks but, like Steve, we would like the situation resolved sooner rather than later," said Parry.
Gerrard has been linked with Chelsea and Real Madrid, although in the wake of Liverpool's stunning Champions League success, he admited that it would be difficult for him to leave Anfield.
"The ball is in Liverpool's court now. I'm ready to talk and am waiting for them to give me the nod," the England midfielder said recently.
There has been plenty of speculation surrounding the midfielder but he has insisted he would like to stay at Anfield.
"Of course, yes, I've still got two years left. We haven't spoken about a new contract yet and I don't know how long those talks will go on for," he said.
"But the sooner they start the better because I want my future sorted before the start of the season."
Gerrard could be in action in mid-July, as Liverpool start the defence of their Champions League tropy at the first qualifying round.
"It is very important for the champions to defend the trophy. I'm looking forward to a long season ahead," he said.
"We can't complain about being in the first round because the rules stated we shouldn't be in it.
"The European Cup has gone now. We've got to be just as hungry. We won the big one but it is important we forget about that and move on and try to do better in the Premiership.
"People think I'll be drained but I'll look after myself."