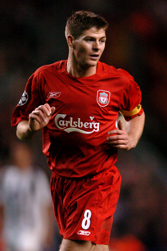 Liverpool captain Steven Gerrard has performed a u-turn and decided to stay at Anfield.
The 25-year-old revealed yesterday that he wanted to quit the club with whom he had spent his entire career.
But Gerrard has another change of heart after talks with chief executive Rick Parry, who said: "He realises how much the club means to him."
Gerrard is now expected to sign the new contract on offer worth £100,000-a-week, a deal he initially turned down.
Chelsea, who had seen a £32m bid rejected on Monday, will be disappointed at the development after failing to land Gerrard in similar fashion last summer.
Parry added: "Stevie's decided to stay. It's a little bit like last year, only even more dramatic.
"In the language he used to us, he never said he wanted to go. He never said 'I wanted to go'.
"I think in the last 24 hours he has reflected on it, he's thought it through and he wants to stay.
"There were lots of late-night phone calls and early morning phone calls. I couldn't be more delighted. It is what we wanted all along."
Gerrard's desire to move is believed to have come from his belief that he was not wanted by the club.
And Parry admitted: "I've apologised to Stevie if I have misread his emotions.
"I guess after winning the Champions League in Istanbul I thought I knew where we were going but he clearly thought for whatever reason that the club wasn't as enthusiastic about keeping him as we might have been. He was anxious.
"There were one or two issues with the contract which he took to mean a lack of enthusiasm on our part, which it wasn't. He understands that now.
"We've had some emotional moments together, cleared everything up and I don't think this will happen again."