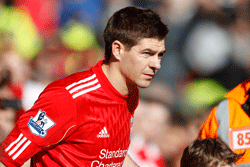 Gavin Beech has a big price tip for Arsenal's visit to Blackpool on Sunday – see his full preview here…
Liverpool boss Kenny Dalglish has confirmed that club captain Steven Gerrard is to sit out the remainder of the season.
The England midfielder returned to training a week ago after a groin operation in early March but sustained a similar problem last Friday and Dalglish has now confirmed that the problem is serious enough to keep the 30-year-old midfielder out of Liverpool's final seven games of the season.
"We still don't know definitively what the problem is," said the Scot.
"We will wait to get a precise answer from the people that he has to see but he won't be involved again this season."
Gerrard last played for Liverpool on 6 March during the 3-1 victory over Manchester United in the Premier League and was expected to return for last Saturday's 2-1 defeat at West Brom.
Dalglish added: "It is a blow to anyone but it's more disappointing for the player than it is for us, obviously.
"We just have to get on with it and without being disrespectful to the players who are injured the most important ones are the ones who are fit.
"They are the ones who can be chosen. At this particular moment in time I'm as good a player as Steven."
Gavin Beech has a big price tip for Arsenal's visit to Blackpool on Sunday – see his full preview here…