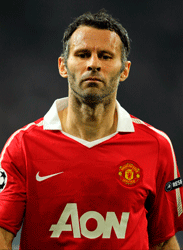 Save up to 33% on a subscription to World Soccer
Ryan Giggs is confident of helping Manchester United move closer to another Premier League title with victory over Chelsea at Old Trafford on Sunday.
United stand three points clear of Chelsea ahead of the title showdown, with Carlo Ancelotti's side knowing that victory at the league leaders would take them to the top of the table with just two matches remaining.
Manchester United have won all but one of their home league matches this season, a record which Giggs does not see being threatened on Sunday.
"We always fancy ourselves at Old Trafford," Giggs said in The Independent. "Just producing the level of football we know we're capable of [is key].
"We have to go out and attack like Manchester United do at Old Trafford. The crowd wouldn't have it any other way. If we were sat back in the first 10 or 15 minutes, the crowd wouldn't have it. We've got to go and try and score goals and win the game.
"I think that is dangerous, to sit back against a team like Chelsea who can score goals against you.
"Our form's been good. Newcastle away, we could have won that and played well. It's a tough place to go. We did not play well against Arsenal, but anyone can get beaten by Arsenal. Chelsea are flying at the moment but, apart from Sunday against Arsenal, we have been as well. It's two very good teams going into the game on good form."
Giggs acknowledged just how important three points could be for both sides.
"Both teams realise that," he added. "We realise that, and that's what we'll be aiming to do. It's going to be difficult because they're a top team, but our form is good. We're not worried about what's happened in the past. All we can control is what happens in the future, starting with Chelsea.
"We knew they wouldn't be too far behind us, and that's certainly the case. You don't have to worry too much about what's happening. We could go back further when they were a lot of points in front of us. Yes, it's frustrating that it's come down to this but we can't worry about what has happened in the past.
"It's just all about Sunday really and producing a performance."
On the Champions League final meeting with Barcelona, Giggs added. "They had young players in that team who have probably got confidence from winning the Champions League, and a lot of them have won the World Cup as well. That breeds confidence.
"But we've got plenty of experience and plenty of hunger in the dressing room as well. They're top players and if they all click it's very difficult to beat a team like that, but it's not impossible. Just like they'll be trying to hurt us, we'll be trying to hurt them."