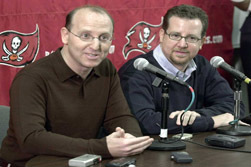 Joel, Avi and Bryan Glazer were forced to leave Old Trafford in police vans on Wednesday after hundreds of fans protested outside the stadium.
The Glazer brothers, sons of new owner Malcolm, were making their first visit to the club since taking it over, but once word spread that they were at the ground, several hundred supporters gathered outside the ground.
Barriers were erected around the ground as fans tried to stop the Glazers leaving and two arrests were made.
It took more than 100 police officers to get the Glazers out of the ground as fans swarmed around the stadium.
Colin Hendry, from the Manchester United Independent Supporters Association, said he thought police were too heavy-handed.
"There were barricades across a road and people were standing and chatting," Hendry told BBC Radio Five Live.
"The barricade went up, the Glazers started to move and people sat down in front of the barricade.
"But police in riot gear, with batons, without warning, without instruction to disperse, just attacked those people."
However, a Greater Manchester Police spokeswoman replied: "Police were called to Old Trafford following reports that a number of fans were protesting outside.
"High visibility patrols, dog handlers and officers from the tactical aid unit went to Old Trafford to ensure the protest remained peaceful."
Shareholders United, who oppose the takeover of the Premiership club by Glazer, claimed the protests showed there was still significant ill-feeling towards the Glazer family.
"The Glazer family are the enemies of Manchester United," said Shareholders United vice-chairman Sean Bones.
"We find them disgusting and repulsive. They may have captured the club but they only have it on a temporary basis.
"It might take a long time, maybe two or three years, but we are showing Glazer that we won't give up.
"In the long-term the Glazer brand will be suffocated. The previous Manchester United brand was peerless in terms of sporting brand names.
"The Glazer brand is toxic and tarnished, uncool and unstylish. Glazer will lose the war."
Their visit followed meetings with English football's governing bodies, plus Sports Minister Richard Caborn.