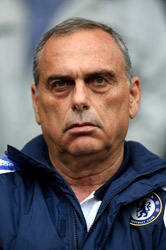 Tom Powell is tipping Liverpool to win at Blackpool tonight – see his full betting preview here
Avram Grant says he he has been given no indication by the West Ham board that his position is under threat.
Grant has, however, led West Ham to the last four of the Carling Cup and saw his side claim a 2-1 win over Birmingham on Tuesday in Tuesday's semi-final first leg tie.
However, with the club rooted to the foot of the Premier League, there remains speculation about his future.
"I understand why you keep asking this question, because someone gives you a rumour and then you have to ask," Grant told Sky Sports News following the victory over Birmingham.
"But I have had to answer this question since day one that I have been here. I can tell you what I think. I think if the owners have something to say to me, they will say it to me. If I think I can't do the job right, I will say to them that I don't want to stay and I will go.
"That is the right thing to do. I don't think I need to deal with any issues through the media."
Tom Powell is tipping Liverpool to win at Blackpool tonight – see his full betting preview here
Take advantage of the January sales by saving up to 36% on a subscription to World Soccer