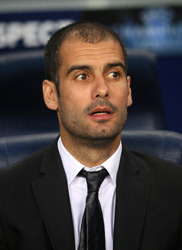 Barcelona coach Pep Guardiola has defended his players' behaviour ahead of the Champions League semi-final clash with Real Madrid.
Dani Alves, Pedro and Sergio Busquets were all accused of unsporting conduct by Madrid in the first leg at the Bernabeu, while the latter is reported to have racially abused Real full-back Marcelo.
However, UEFA decided not to make any additional charges against both clubs – deciding to stick with the original list – and also threw out the extra accusations made by the Catalan club against Madrid coach Jose Mourinho.
Guardiola, though, took the opportunity to praise his players' conduct.
"I know my players very well and they are an example of professionalism and honesty," he said. "They can all make mistakes during the game, but they are exemplary human beings and in any case, the actions from the past are just that – in the past.
"They can present all the complaints they like, but UEFA are the ones who decide," he said.
"They think we are unsporting, but I think completely the opposite.
"Here we teach our players manners from a young age."
Guardiola also took the opportunity to remind Mourinho, who is suspended and will watch Tuesday's match from the stands, of those values.
"Mourinho was here [at Barcelona] for five years and he knows our values: to win, fight and earn respect by respecting your rival," he said.
Barcelona midfielder Xavi also hit out at Madrid's protests to UEFA.
"The complaint from Real Madrid was a disgrace and it's logical UEFA have rejected it," he said. "We have hardly talked about football at all and that makes me sad."
Tensions have grown on and off the pitch over the last 17 days, but Tuesday's game will conclude the four-match El Clasico series.
"I'm happy it's all over," Guardiola added. "Tomorrow it all finishes.
"We are playing for a place in the final, not to beat Real Madrid."