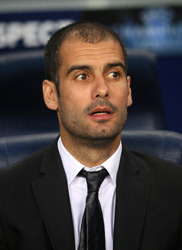 Real Madrid v Barcelona: See the best odds on EVERY market of tonight's Champions League semi-final 1st leg here…

Barcelona's coach, Josep Guardiola, has responded to Real Madrid boss, Jose Mourinho, on the eve of the sides' Champions League semi-final clash in the Spanish capital.
The normally taciturn Guardiola felt compelled to respond to Mourinho's accusation that the Barcelona coach complained about referees who got decisions right.
"He called me Pep, so I answered," Guardiola said, as he launched into a spirited riposte to his Portuguese counterpart. "Normally, he talks in general terms about a team, a club or a manager, but this time he named me. If he says: 'Pep,' I say: 'Hey, José.'
"As Mourinho has spoken so candidly about me and spoken about me by name, and using tú [the informal form of you], then I will do the same."
He then asked which of the gathered cameras was "Mourinho's camera" and began.
"Tomorrow at 8.45 we will play a match on the field," Guardiola said. " Outside of the field, he has won the entire year, the entire season and in the future [it will be the same]. He can have his personal Champions League outside the field. Fine. Let him enjoy it, I'll give him that.
"But this is a game. When it comes to sport we will play and sometimes we will win, sometimes we will lose. We are happy with smaller victories, trying to get the world to admire us and we are very proud of this.
"I can give you an immense list of things [that we could complain about]: 300,000 things. We could remember Stamford Bridge and another thousand things but I do not have that many people working for me. Secretaries and referees and people writing stuff. So tomorrow, 8.45pm, we will take to the field and we will try to play football as best as possible.
"In this room [Real Madrid's press room], he is the chief, the fucking man. In here he is the fucking man and I can't compete with him. If Barcelona want someone who competes with that, then they should look for another manager.
"But we, as a person and an institution, don't do that. I could talk about [Olegario] Bequerença [the referee from last season's Barcelona-Inter semi-final first leg], about the offside goal from Diego Milito or the penalty of [Dani] Alves, but I don't. Well, until tonight!
"If you think after three years, that I always moan, always make excuses and always complain, then there is nothing I can do about that.
Mourinho had provoked Guardiola by referring to comments his rival made after Madrid's victory in the Copa del Rey final last week.
"A new era has begun," Mourinho said on Tuesday. "Until now there were two groups of coaches. One very, very small group of coaches that don't speak about refs and then a big group of coaches, of which I am part, who criticise the refs when they have mistakes – people like me who don't control their frustration but also people who are happy to value a great job from a ref.
"Now there is a third group, which is only [Guardiola], that criticises referees when they get decisions right! There is a new meaning to [football] now. In his first season [Guardiola] lived the scandal of Stamford Bridge [in the semi-final], last year he played against a 10-man Inter. Now he is not happy with refs getting it right. I am not asking the referee to help my team. If the referee is good everyone will be happy – except Guardiola. He wants them to get it wrong."
Guardiola worked with Mourinho at Barcelona but in the wake of Mourinho's remarks, he considers that relationship to have ended.
"We worked together for four years," he continued. "He knows me, I know him and that's all. If he wants to go by things written after the Copa del Rey by friends from the written press or Florentino Pérez, with his milkmaid's tales, then fine. If that matters more than our relationship, then that's up to him.
"I am not going to justify my words. It leaves a bad taste in your mouth when someone you had a relationship with does [what he has done]. I always thought that when people didn't understand me, it was because I had explained myself badly, but now I don't. I said the referee [in the cup final] had been smart and very attentive. I said it was right. I pointed out simply that the result can be down to small things, that's all. It was not a complaint.
"After victory I congratulated Real Madrid and that is what Barcelona does. We congratulated RM for the cup that they won on the field against a team that I represent proudly."
Real Madrid v Barcelona: See the best odds on EVERY market of tonight's Champions League semi-final 1st leg here…