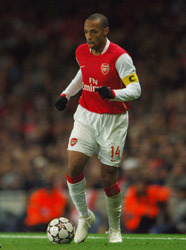 Thierry Henry's management company has denied reports that the Arsenal striker has agreed a provisional three-year contract with Barcelona.
France Football magazine claims Henry's agent met with Barca's sporting director Txiki Beguiristain last week.
"No such meeting took place. That is absolute rubbish," Jeff Weston, from the SEM Group which represents Henry, told BBC Sport.
"There's never been any question of him not being at Arsenal next season."
France Football claims SEM's Jerome Anderson has agreed a three-year deal, worth £6.78m a season, with Barcelona.
However, Anderson has threatened to take legal action against the magazine following their report, which claimed a deal was reached after a meeting between the parties in the south of France.
"I can categorically state that I never had a meeting with anyone representing Barcelona," Anderson told The Sun newspaper. "The whole thing is garbage.
"I did not meet with anyone – whether in the south of France or anywhere on this planet. I have read the article in the French magazine and there is not one element of truth in the story and they will be hearing from my lawyers.
"I've not been to the south of France for years. Where this comes from I have absolutely no idea. Nobody checked these claims with anyone involved in the story. It is scandalous."
Henry, who was linked with a move to Barcelona 12 months ago, signed a new four-year contract with Arsenal last summer, but speculation about his future resurfaced last week after he admitted he was flattered by interest from Milan.
Henry, meanwhile, has played down the latest claims, suggesting the continued speculation surrounding his future is "not a current issue".
The Arsenal striker told L'Equipe that he will consider his next move in his own time.
"I have taken no decisions," Henry said.
"Lots of people are speaking on my behalf. It's impossible to stop the rumours – it's not the first or the last time that people are speaking for me.
"In my head I'm still an Arsenal player and my departure is not a current issue."