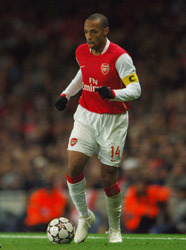 Thierry Henry has arrived in Spain to complete his £16m move from Arsenal to Barcelona.
Henry will undergo a medical before being unveiled as a Barca player later today.
"It is incredible. I am looking forward to playing in the Camp Nou and helping the team in every way I can," Henry told the Barcelona website.
"The most important thing that made me come [here] is the way Barca plays, the fans and the support they give. Without good fans it is difficult to have a good team and vice versa."
"Barça is more than a club. Everybody knows about Barça. The most important thing that has made me come is the way Barça plays, the fans and the support they give. Their style of play is very attractive and has attracted me."
Henry had earlier paid tribute to Arsenal fans for their support during his eight years at the club.
"I would like say to you that you have been tremendous for me and I really do appreciate it," he said.
"I am shaking as I say this. I will always remember you and I will have you in my head and my heart.
"I wanted to reassure you that I always gave 100% here. I hope you appreciate what I did here because I appreciate what you did for me.
"I grew as a man and became a better football player – I will always take that with me no matter what happens.
"Arsenal will be in my blood as well as my heart. I will always, always, always remember you guys. I said I was going to be a Gunner for life and I did not lie because when you are a Gunner you will always be a Gunner.
"The club is in my heart and will remain in my heart forever."
The Barcelona forward Lionel Messi has welcomed Henry to the club but he was at pains to point out that he was not about to give up his place in the side.
"For me the presence of Henry does not worry me. I am not a child any more and I know what I am capable of," he told El Mundo Deportivo.
"I don't know how we will play; this is something that must by resolved by Rijkaard but, if Henry signs, it is because Frank knows how we will play to make us even stronger.
"Henry is a great player and for that reason he comes to Barça," Messi said. "He has shown during all these years that he is a great player."