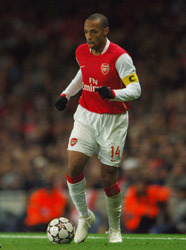 Thierry Henry has passed his medical at Barcelona paving the way for him to complete his transfer from Arsenal.
"He has passed all the tests satisfactorily," Barcelona team doctor Ricard Pruna told the Spanish club's web site.
"There are no problems, everything is in order. Henry has no injury or after-effect that prevents him from joining the club."
French striker Henry will sign a four-year contract with the Primera Liga team later in the day.
Henry suffered foot, back, stomach and groin injuries in England last season, and a sciatic nerve forced him to sit out the last three months of the season.
"We paid particular attention to the groin area because we are aware of the problems he has had there," said Pruna. "We believe it is due to an imbalance in the muscle groups in the area."
"He will undergo a special programme in Paris to redress the imbalance in the area so that he can join up with the rest of the team on July 21.
"In theory, given what we have seen today, and if he completes the programme properly and continues it when he comes to club, there should be no problems."