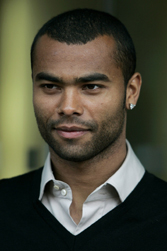 Arsenal captain Thierry Henry has admitted it will be a "massive" blow to the club if they sell defender Ashley Cole.
Henry compared the possible loss of the England defender – who has been linked with a move to Chelsea – to last season's departure of Patrick Vieira.
"The loss of Vieira to Juventus was massive – like it would be if Ashley goes," Henry told The Sun newspaper.
Arsenal are also facing the loss of Spanish winger Jose Reyes who is linked with a move to Real Madrid.
Cole did not travel with Arsenal for their Champions League qualifier against Dinamo Zagreb – which the Gunners won 3-0 – while Reyes was an unused substitute.
That means both players are still eligible to play for another club in this season's competition, which will increase their transfer value.
Henry said he had reservations about the club selling Cole to one of Arsenal's Premiership rivals.
"Obviously we want him to stay. He is one of the best left-backs in the world. We would miss him badly," Henry said.
"We already have injuries to Gael Clichy and Philippe Senderos. We have a lot of players out.
"I don't know anything about the situation with Chelsea.
"But if he goes there it will look like we are trying to catch a team at the same time as giving them one of our best assets. It would be difficult to take."
Cole's future at Arsenal is something Wenger wants sorted out in the next few days.
"Many big players have left the club in my nine years." Wenger said.
"However, Ashley Cole has not left yet, and if he does, we still have players who can come in for him or we can buy."
He admitted on Tuesday that he left Jose Reyes out of his team to face Dinamo Zagreb because the winger was "unsettled".
"I did not think he had the right concentration to play," said Wenger. "I just considered tonight's game and the fact he will be cup-tied or not did not come into my mind. I played the team tonight which I thought had a good chance to win the game."