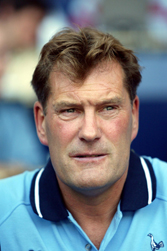 Former England coach Glenn Hoddle has been appointed manager of Wolverhampton Wanderers.
Hoddle, who has been out of management since being sacked by Tottenham Hotspur in September 2003, will be unveiled later today.
Hoddle, who was sacked by Tottenham in September 2003, will work alongside former caretaker boss Stuart Gray.
"I'm delighted to be here," said Hoddle.
"I saw the massive potential that Wolves have got and their desire and ambition to get back into the Premiership parallels my ambitions.
"Stuart (Gray) has done a fantastic job as caretaker manager. We've worked together at Southampton and I'm delighted to be back with him."
Hoddle is best remembered for a controversial three-year stint in charge of England, which ended in 1999 when he was quoted as saying that disabled people were paying for sins in a former life.
Hoddle took over at Southampton the following January before becoming manager of Spurs in March 2001.
However, his return to the club he graced as a player, lasted only two and a half years before Hoddle was sacked after a run of disappointing results and complaints by players about his management style.
Hoddle, who had been linked with a return to former club Southampton, replaces Dave Jones who was dimissed earlier in the season.