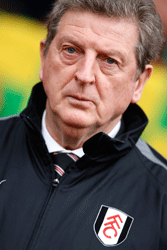 Arsenal's title push continues at home to West Ham this weekend – see all the betting here.
Fulham manager Roy Hodgson he felt on top of the world after his side's Europa League win over Juventus.
The Cottagers stunned the the Italian side with an unlikely 4-1 victory, putting them through to the quarter-finals for the first time in their history after a 5-4 aggregate win.
Fulham got off to a terrible start as David Trezeguet put the visitors ahead after two minutes.
But Hodgson's men responded with a goal from the excellent Bobby Zamora, before Fabio Cannavaro was sent off for hauling down Zoltan Gera.
Gera then scored before half-time and added a third from the penalty spot, before Clint Dempsey securing the triumph with a deft chip.
Hodgson was delighted after the stunning comeback.
"I'm on top of the world," he said. "I don't know if it is the biggest night in the club's history but it must come close.
"I was very impressed with how they came back. We couldn't have had a worse start.
"We went behind to a simple goal which made an uphill task even steeper but even from that point the team started to play well and the crowd got behind us and even at half-time I thought we were looking good to win the game.
"It was never going to be impossible to turn it around and luckily that has happened.
"To get to the quarter-final of this competition is extremely good because we played our first match at the end of July and we will still be playing in this competition next month.
"When I reached the final (as manager of Internazionale) our European campaign was nowhere near as long as this one has been, I think it encompassed 12 games including a two-legged final.
"By the end of the next match we'll have played 16 games now and I think it is a remarkable achievement that the boys have done so well."
Juventus manager Alberto Zaccheroni, meanwhile, was unhappy with the sending off of Cannavaro and thinks it transformed the game.
"We are disappointed with the result," he said.
"We feared Fulham and they played well but as soon as we went down to 10 men we struggled.
"I have seen the replay of the incident and I think the referee was too strict."
Arsenal's title push continues at home to West Ham this weekend – see all the betting here.
Make sure you don't miss any of the last news and articles from World Soccer. Subscribe to World Soccer today and take advantage of our all 50th anniversary offer, saving up to 50%!