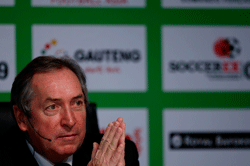 What price is Gerhard Houllier to start his Aston Villa reign with a win at Stoke on Monday night?
New manager Gerard Houllier has confirmed he will not attend Aston Villa's Premier League clash with Stoke City on Monday and is unsure when he will officially take charge of the club.
Houllier, who gave up his position at the French Football Federation to succeed Martin O'Neil at Villa Park, still has obligations to fulfil with the FFF and he hopes to be able to start his Villa post in their next game at home to Bolton.
Meanwhile, Kevin MacDonald, who acted as caretaker manager after the departure of O'Neill, has opted against becoming Houllier's assistant and will return to his job as reserve team coach.
"I spoke to Kevin and he prefers to go back to his role as reserve-team manager," revealed Houllier. "He has done a very good job and I trust him and I am sure our relationship will be good."
Houllier said he was proud to be returning to the Premier League at the helm of such an ambitious club.
"I take great pride in my appointment as manager of Aston Villa. It is a great honour for me," Houllier said. "I was impressed by the dynamism and the ambition of the club. And I'm delighted to be part of that ambition.
"The Premier League is the best league in the world. It has not diminished since I left Liverpool [in 2004]. I had a good job with the FFF but I had a desire to return to English football – although it is not a case of unfinished business because I did well at Liverpool and won six trophies."
Houllier is eager to get to work at his new club.
"The facilities are first class, the training ground is really good, there is a vision for the future," said Houllier. "It's down now to us to work hard to bring success and joy to the fans. The fans are most important, they are passionate, vocal and fantastic."
What price is Gerhard Houllier to start his Aston Villa reign with a win at Stoke on Monday night?
Make sure you don't miss any of the last news and articles from World Soccer. Subscribe to World Soccer today and take advantage of our all 50th anniversary offer, saving up to 50%!