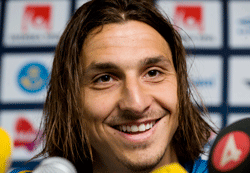 Zlatan Ibrahimovic has labelled his former boss at Barcelona, Pep Guardiola, as a 'small time' coach.
The Swedish striker recently left Camp Nou to join Milan, just 12 months after arriving in Spain in a big-money deal.
The 28-year-old has now returned to Italy, where he has previously represented Juventus and Inter, and has criticised his former coach for bringing about his disappointing slump in form.
"In my book, a great coach solves his problems. A small-time coach runs from them," he said.
"There was only one person (on the Barcelonateam) who wanted to get rid of me."
He added: "I have never had problems with any coach before during my career.
"But suddenly I had a thousand problems and I had no communication with 'the Philosopher'. No communication whatsoever. I don't know what his problem was.
"I couldn't take it. I had no choice but to find a new place of work and I was lucky to go to a club like Milan. I am 28 years old and cannot afford to lose a year sitting on the bench and watching the weather."
Ireland travel to Armenia for the start of their Euro 2012 qualification campaign – see the best betting here.
Make sure you don't miss any of the last news and articles from World Soccer. Subscribe to World Soccer today and take advantage of our all 50th anniversary offer, saving up to 50%!