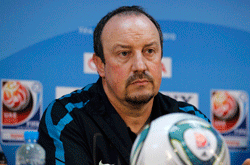 QPR are still favourites for the Championship despite losing 2 games in a row
The Internazionale president, Massimo Moratti, has refused to discuss media reports suggesting he has sacked Rafael Benítez as coach following a dispute over transfers.
"I prefer not to talk today to avoid the risk of creating controversies," Moratti told reporters.
Today's edition of Gazzetta dello Sport said Benítez, who has only been in charge at Inter for six months, is to be replaced by the Zenit St Petersburg coach, Luciano Spalletti.
On Sunday, Moratti had labelled comments by Benítez following Inter's triumph in the World Club Cup as "inappropriate". The Spaniard had earlier told a news conference in Abu Dhabi that the club had to make signings in the summer or else he would speak with his agent about his future.
The former Liverpool boss has endured a tricky start to his tenure at the San Siro and in the wake of Inter's Club World Cup triumph, Benitez issued an ultimatum to his employers.
"There are three possibilities for the club," the Inter manager said after his side defeated the Congolese side TP Mazembe 3-0 in Abu Dhabi on Saturday.
"One, 100 per cent support for the coach and buy four or five players to build a stronger team with competition among the players to be able to carry on winning matches and trophies.
"Two, carry on like this without a project, without planning, and go ahead with one person to blame for the whole season getting to May this way.
"The third is to speak to my agent and reach an agreement if there is not this support. Simple."
Inter currently sit 13 points behind Serie A leaders Milan and only qualified in second place from their Champions League group, behind newcomers Tottenham.
QPR are still favourites for the Championship despite losing 2 games in a row