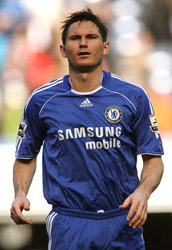 Premier League Fixtures – The start of the new Premier League season might still be a while off, but the fixtures are already out and we've got all the early match betting – Aug 16th
Inter have confirmed that they are still interested in signing Chelsea midfielder Frank Lampard.
The Serie A champions have been pursuing the Chelsea midfielder for some time, and have already seen one offer turned down by the London club
However, Inter chief executive Ernesto Paolillo has confirmed that Lampard, along with Portuguese winger Ricardo Quaresma, remain potential targets.
"Until the 31st August we have the possibility to make new signings, anything could happen," he told Sky Italia.
"I hope that Marco Branca (technical director) will allow us to bring players in.
"(Ricardo) Quaresma and Lampard? They are not fundamental to our plans.
"At the moment I think that we have a strong squad, but we will see.
"We know that (Jose) Mourinho likes Lampard, because he has known him for a long time, but the manager is happy with his squad.
"Should they arrive, great, but if they don't, I repeat, we have plenty of good players here already."
Premier League Fixtures – The start of the new Premier League season might still be a while off, but the fixtures are already out and we've got all the early match betting – Aug 16th