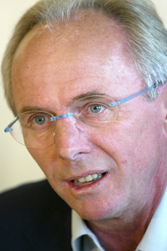 Click here for the Champions League Quarter-Final and Semi-Final draws and outright tournament odds
Ivory Coast have appointed Sven Goran Eriksson to lead them at this summer's World Cup finals.
The former England and Mexico coach was known to be on a shortlist that is said to have included Mark Hughes, Guus Hiddink and former Real Madrid coach Bernd Schuster.
However, after discussions with Ivory Coast officials, it has now been confirmed the Swede is to be in charge in South Africa.
A statement released by the FIF said: "Aware of the great expectations of our population who have taken a keen interest in the matter, the executive committee focused its choice on Mr Sven-Goran Eriksson.
"The Swede has been, among others, coach of England and Mexico. He is an experienced technician who has been proven.
"His mission is to lead our team during this World Cup, and to ensure that there is an honourable participation in a competition reserved for the top 32 football nations in the world, and it obviously will be difficult.
"Therefore, the executive committee of the FIF appeals to the sacred union between the 'Elephants' and their coach."
A poor showing at the African Cup of Nations, where Ivory Coast failed to get beyond the quarter-finals, saw Vahid Halilhodzic pay the price with his job last month.
Eriksson took England to two World Cup quarter-finals, although his most recent experience of international management ended with his dismissal as coach of Mexico, following a dismal string of results.
Click here for the Champions League Quarter-Final and Semi-Final draws and outright tournament odds