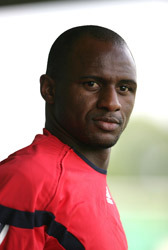 Juventus have agreed to sell Patrick Vieira to Internazionale.
"The departure of Patrick Vieira for Inter Milan will be Juventus' last sale this summer," club's director general Jean-Claude Blanc said. "Everything was settled between the two clubs."
Vieira has been tipped to link up with Inter ever since Juventus were relegated to Serie B for their role in the Italian match-fixing scandal. However, there were suspicions that the deal had collapsed and the player himself had expressed an interest in joining Manchester United.
But Inter have revived the deal and Vieira looks set to put pen to paper on a four-year deal in the next few days.
Inter are thought to be paying in the region of €9.5 million for the France international, who is expected to sign a contract later this week.
Vieira had earlier confirmed that he would not be playing for Juventus next season.
"Now I'm not sure where I'm playing next season, I'm still looking for a new club," he said.
"There might be some sort of conclusion in the next 48 hours and it's a very important decision for me.
"I will not be playing for Juventus since they are going to Serie B."
Meanwhile, Blanc also confirmed that Juve's French striker, David Trezeguet, will be staying with the club. Trezeguet had been linked with a move to French champions Lyon, but that now looks unlikely and he will be playing next season in Serie B.
"David Trezeguet will stay at Juventus next season," he told French sports daily L'Equipe.