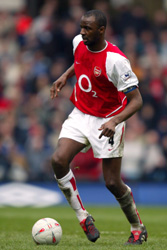 Juventus have confirmed that they are interested in signing Arsenal captain Patrick Vieira.
The Italian champions, who recently turned down a £30m approach from Chelsea for striker David Trezeguet, 27, are keen to strengthen their squad and they have identified Vieira as their key summer target.
"What we want is a midfield partner for Emerson – and our wish is to buy Vieira if Arsenal are willing to sell," Moggi said.
"Obviously, they will not let him go cheaply as he is a magnificent, winning midfielder but if Arsenal are willing to do business, we'd buy him tomorrow." Moggi revealed to The Sun newspaper.
Chelsea's move for Trezeguet, comes after they failed with bids for Barcelona's Samuel Eto'o or and Milan's Andrei Shevchenko.
But Moggi dismissed the approach out of hand.
"They made a formal offer for Trezeguet but none of our 'champion' players is for sale," he said.
Meanwhile, Chelsea manager Jose Mourinho admitted that it was becoming more difficult to sign big-name players to Chelsea.
He told Portuguese TV programme Morangos com Acucar: "It is very difficult for Chelsea to sign players because the team is already good and great clubs want to keep their best players.
"In the last three years, I said I was going to win the league and I didn't miss and probably there are a lot of people who are waiting for that moment. But I suspect I will win it again next year."