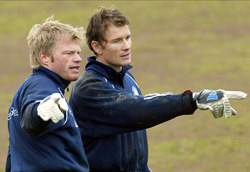 German goalkeeper Oliver Kahn has confirmed that will accept the role of deputy to rival Jens Lehmann for the 2006 World Cup.
"I've come to the conclusion that it's important for the national team for me to be there, despite my disappointment," the 36-year-old Kahn told a news conference in Munich.
"This can't be about personal vanity.
Coach Jurgen Klinsmann settled Germany's long-standing goalkeeping dispute on Friday when he announced that Arsenal's Lehmann would be the number one for the June 9-July 9 tournament.
Kahn captained Germany to the final of the 2002 World Cup in South Korea and Japan. He was named the player of the tournament, despite a mistake that led to Brazil's first goal in the 2-0 final defeat.
"Jurgen has made his decision and I accept it," Kahn said at Monday's news conference, quashing speculation that he might retire. "The team, including Jens Lehmann, will have my full support."
Monday's decision means Kahn can expect to be on the bench at his home stadium in Munich for Germany's World Cup opener against Costa Rica on June 9.
Subscribe to World Soccer – The essential football magazine.